News and Events
T2T's founder Anita Lowenstein Dent wins Points of Light award
Congratulations to Anita, who has been awarded a Points of Light award, which recognises outstanding change-makers.
In a personal letter to Anita, Prime Minister Boris Johnson said:
"I know you do this with no thought of praise or reward, but allow me to offer my own recognition of how 'Teach2Teach International' is training the teachers of the future, giving young people across Ghana the education they need to succeed in their own lives and communities."
Click the image below to read the full story:
The Wiyaala Gala
Watch our new film about our fabulous CVTs, and scroll down to see a message from Lord Paul Boateng, as well as photos of the Wiyaala Gala
"Well done Anita on a great evening last night. Good fun." Jonathan
"Congratulations on a fabulous success last night!" Wendy
"Amazing. Amazing. Amazing. Huge congratulations!" David
"What a fantastic night you gave us all. It came together beautifully." Annie
"Congratulations on laying on such a spectacular event. Music, food and general vibe were all fab." Hilary
"Thanks to all of you for a fantastic evening, but even more for all your excellent work towards a very deserving cause." Ian
With huge thanks to all our auction and raffle prize givers.
A set visit of royal proportions! The award-winning series The Crown returns for its third season with a brand new cast of talented actors, including Olivia Colman in the lead role of Queen Elizabeth II, and Helena Bonham Carter playing the role of Princess Margaret. This prize offers the winner and a friend the chance to visit the set of the fourth season and see these power houses in action. Whilst there, you will get a unique, behind the scenes view of this hit show with a fully guided set visit - a once in a lifetime chance to watch the cast and crew in action.
From the House of Benney. Simon Benney, holder of four royal appointments, has created a powder blue enamel bracelet in solid Sterling silver. To own this piece is to have an exquisite heirloom for future generations, as well as an important piece of British silver history. Benney truly is the Georg Jensen of Britain. http://www.houseofbenney.com/
A clay shoot for six people, followed by a delicious lunch, at the renowned Honesberie Shooting School in Warwickshire, generously donated by Nick Hollick. Honesberie Shooting School is located on a family-owned 400 acre farm that lies across the borders of Warwickshire, Oxfordshire and Northamptonshire. We provide first class clay and game shooting instruction in an idyllic country setting near Rugby.
The Malta Bow-Tie Maxi Dress, bespoke, with fittings included, from Soler and designer Alex Subide. Based in Soler's atelier off Portobello and Golborne Road, Alex designs pieces that are both distinctive and timeless. Alex will host the winner at her atelier, so that they can pick the colour and fabric of the dress.
@solerfashion
Los Angeles portrait and event photographer, Sheryl Wachtel, offers a 90-minute family photo session in the privacy of your own home. Sheryl will consult on the style, setting and wardrobe for the shoot. Her specialty is capturing natural poses and meaningful moments between family members. After the shoot, you will have access to a private website from which to view your images, and the ability to download any/all of the photos as high resolution .jpgs with full personal usage rights.
A 'surprise' lot, offered by Teach2Teach International founder Anita Lowenstein Dent. Details revealed on the night…
Australian chef Bill Granger invites you to enjoy a meal at Granger & Co., and share in the friendly and infectious joy in good, fresh food that have made his restaurants so loved all over the world. His London branches can be found in Notting Hill, Chelsea, Kings Cross and Clerkenwell.
Maison SL - luxury, independent lingerie and swimwear boutique in the heart of Notting Hill - invites you to enjoy a personal shopping experience and a £200 voucher. Maison SL make sure customers not only enjoy their shopping experience, but leave feeling special.
From Michael Van Clarke and his award winning salon, a gift voucher and Michael's famous 3 More Inches Luxury Gift Set. Michael believes everyone can have amazing, healthy, A-lister hair. Over the last 25 years he has obsessively researched and practised solutions to not just mask damaged hair but rebuild hair from within and protect every strand from root to tip. Your hair will grow healthy and strong with great flexibility and shine.
Brunch for four at Les Filles, an Australian style healthy cafe using fresh, unprocessed ingredients to turn them into delicious and nourishing meals. Les Filles believe that true, long term health and wellbeing begins with self love, good laughs and wonderful life experiences. Their mission is that everyone who walks in has to come out feeling that little bit better.
From Bounce, a ping pong and pizza session. The Bounce ping pong experience is one of London's most talked about and iconic nights out. Grab five friends and bring your A-game to an hour of ping pong, along with a delicious pizza for each player, to be enjoyed either as table-side fuel or with the post-match debrief. Choose from the original Farringdon venue or their fantastic Old Street branch.
From Melt, a luxurious chocolate experience for two. Taste and make amazing chocolate in a beautiful boutique at the Heart of Notting Hill, guided by Melt's world-class chocolatiers.
The Capital Hotel
Afternoon tea for two at the world famous Restaurant at The Capital Hotel. Enjoy an exquisite and sumptuous tea in the restaurant of one of London's first boutique hotels, a jewel in the heart of Knightsbridge.
Two pieces from Tom Dixon, master of elegant contemporary design. A Form Tea Pot in brass, channelling the sophistication of Gatsby glamour of a bygone era of tea serving, hints at an Art Deco aesthetic, and ties all this together with a contemporary sensibility. And a set of 3 Eclectic London Candles, capturing the smell of red brick and London parks with crocuses and nettles, and the salty smell of Thames at Dagenham. Encased in a hand-spun copper vessel with a solid white Banswara marble lid.
From the chefs and founders of Honey & Co., Sarit Packer and Itamar Srulovich, their highly anticipated new book, Honey & Co.: At Home - Middle Eastern recipes from our kitchen, in which they welcome you into their kitchen. They hope these quick and simple recipes will soon become staples that you, friends and family will revisit again and again.
From Cocoro, a delicious meal and an authentic Japanese culinary experience. Cocoro serve the food they love with warmth and hospitality. Choose from their first branch in Marylebone, their curry and ramen joint in Bloomsbury, or their newest branch in Highgate. Their Kumamoto pig bone ramen is not to be missed!
From Bodyism, a one month complimentary class membership, with four classes. Lovingly designed for mind-body alignment and holistic healing, Bodyism leads the way in the world of wellness with its unique and mindful approach to fitness. From invigorating classes to supercharged supplements, every element of the Bodyism brand is infused with kindness – and is grounded in the belief that self-love is the first, most important step in each and every wellness journey.
Curzon Cinema invites you to enjoy an evening at the movies for four people at one of it's stylish cinemas, six of which are located in London. Curzon cinemas boast quality and eclectic programming and a luxurious and comfortable viewing experience.
Membership at the exclusive and unique Century Club. Immersed in the heart of Soho, London's best secret is a calm oasis for our discerning members. Century Club offers wonderfully varied and sophisticated facilities, luxuriously spread over the four floors of
this historic building. With our committed and passionate team, Century Club really is your cool and elegant home away from home.
From Farmacy, high tea for two, with signature cocktails and hemp tea. Farmacy believe that eating can heal both us and our world. That's why they prepare their food in a way that respects everything between the soil and the stars. Farmacy's organic and biodynamic farming methods reconnect with the rhythm of nature, making every dish a celebration that is whole, healing, and delicious.
From Show Beauty, a collection of signature products and an expert blow dry. Show Beauty is an opulent hair care, styling and finishing collection that brings back decadent glamour. Show's salons are truly state-of-the-art beauty destinations for luxury hair services.
From designer Judy Wu, the "Beyond the Orange Tree" candle. Judy has personally selected this mix of her favourite essential oils to create this hand poured soy candle. Reflecting on femininity in a contemporary context, Judy has engraved her vision of 'Feminine Strength – embracing femininity to empower modern women' to her brand, with a strong modern art influence. Her first store opened in Connaught Village in 2018.
Ana Holistic Cosmetologist
Expert beauty therapist Ana Medek is a true magician. She invites you to enjoy her unique Age Difference Facial Massage, and marvel at the results. Ana provides the best facial and beauty care you will ever experience.
From John MacPherson Hair, based in the heart of Notting Hill, a luxurious cut and blow dry, plus manicure and pedicure.
From Imi Bagnall Smith, a private 90 minute climbing lesson for up to 4 people. Imi is an experienced climber who has been climbing and competing nationally for 13 years. She coaches with Catalyst Climbing (https://catalystclimbing.com), a coaching company offering private and group bouldering sessions. If you've never climbed before, she can teach you the basics of bouldering, or if you're more experienced she can help you improve your technique! imibagnallsmith@icloud.com
Generously donated by Charlotte Pasha, editor of Sloane Square Magazine:
A luxurious Jo Malone gift bag, containing a number of the brand's inimitable scents. Since 1999, Jo Malone has been rewriting the rules of perfumery by mixing unexpected combinations of ingredients and providing elegant yet playful concepts where scent is used with abandon, the world of Jo Malone continues to inspire a loyal following.
From Twine Living Co., an elegant Gourmet Wood & Ceramic Cheese Board Gift Set, perfect for entertaining. Twine's cheese sets, wine accessories and other goods bring a warm, welcoming style to the modern household. From rustic homestead to cozy seaside abode, Twine ties it all together.
From The Cross, the cashmere Intarsia Dressing Gown. The iconic dressing gown from The Cross, one of the very first London lifestyle boutiques, selling an eclectic mix of fashion, homeware and gifts. They are renowned in London as a unique and charming shopping destination, tucked away in the idyllic, tree-lined streets of Holland Park.
Mitsutoshi
From Mitsutoshi, a relaxing and restorative shiatsu massage. Mitsutoshi is a shiatsu master with many decades of experience. He offers holistic treatment in your own home.
With special thanks to our sponsors:
With thanks to our supporters:
Amanda Willgrave, Flirty Flowers
News from Ghana
T2T's Community Volunteer Teacher Programme has launched in the Kumbungu District of Ghana's Northern Region. Our first cohort of 34 talented and motivated Community Volunteer Teachers have completed the initial eight day intensive training. Congratulations to them all!
Having completed the eight day intensive, our 34 CVTs have covered as much ground as teachers in other colleges of education cover in three years. The vast majority of CVTs come from families in which they are the only literate child. They have all completed senior high school, but financial constraint mean they cannot continue to tertiary training, and jobs are extremely scarce.
The CVTs prize the programme as a unique and extremely valuable opportunity to escape unemployment and poverty. They have a strong sense of duty to serve the children they will teach, and are motivated to raise up the new generation of young Ghanaians that will follow in their footsteps. They take their roles as leaders, mentors and role models extremely seriously.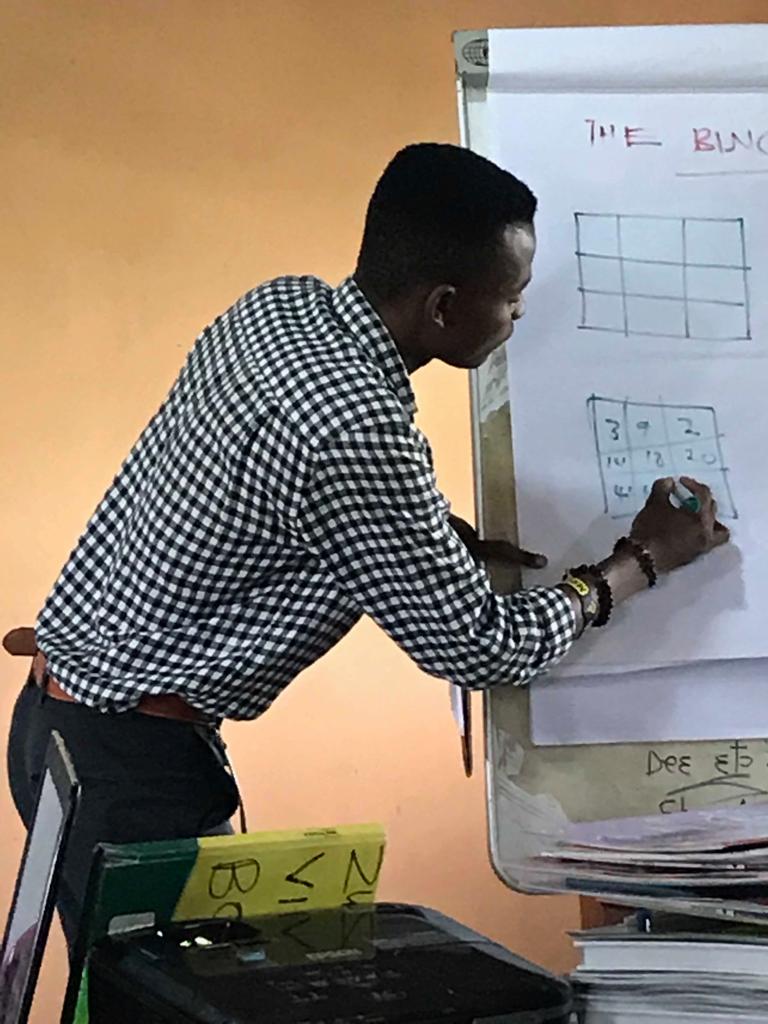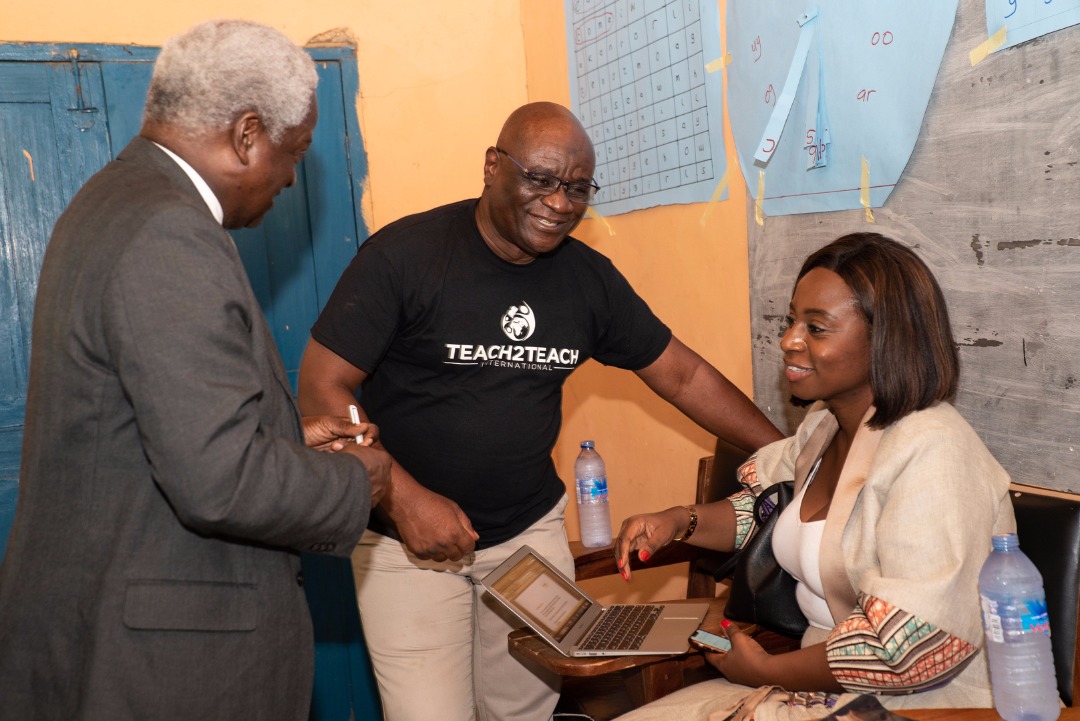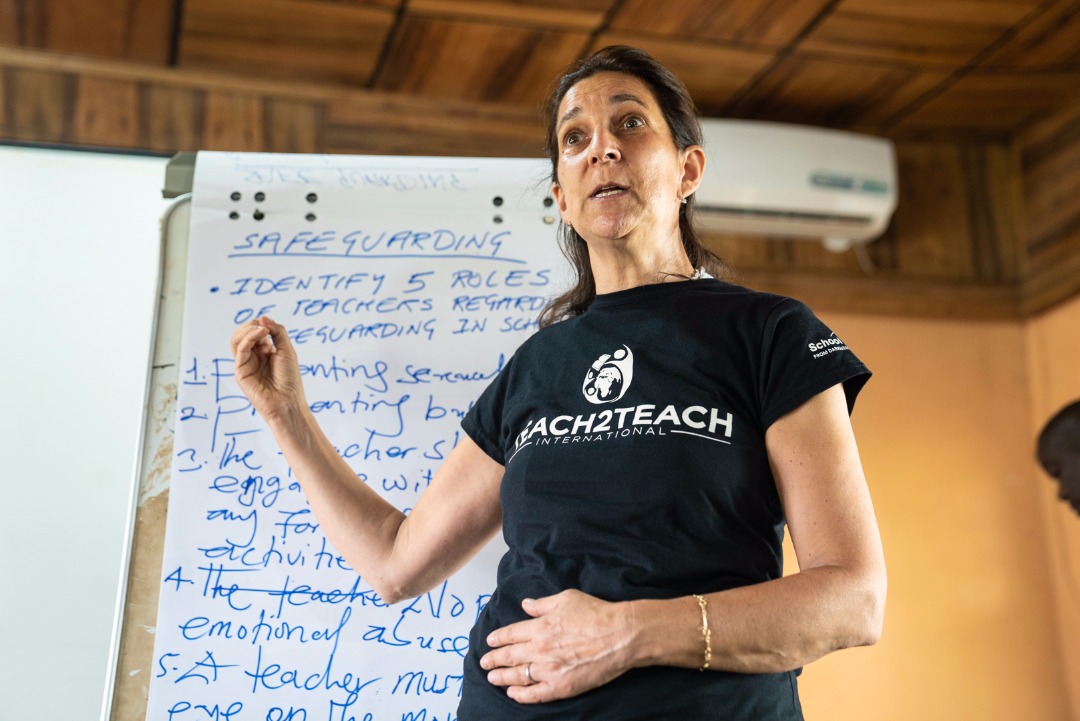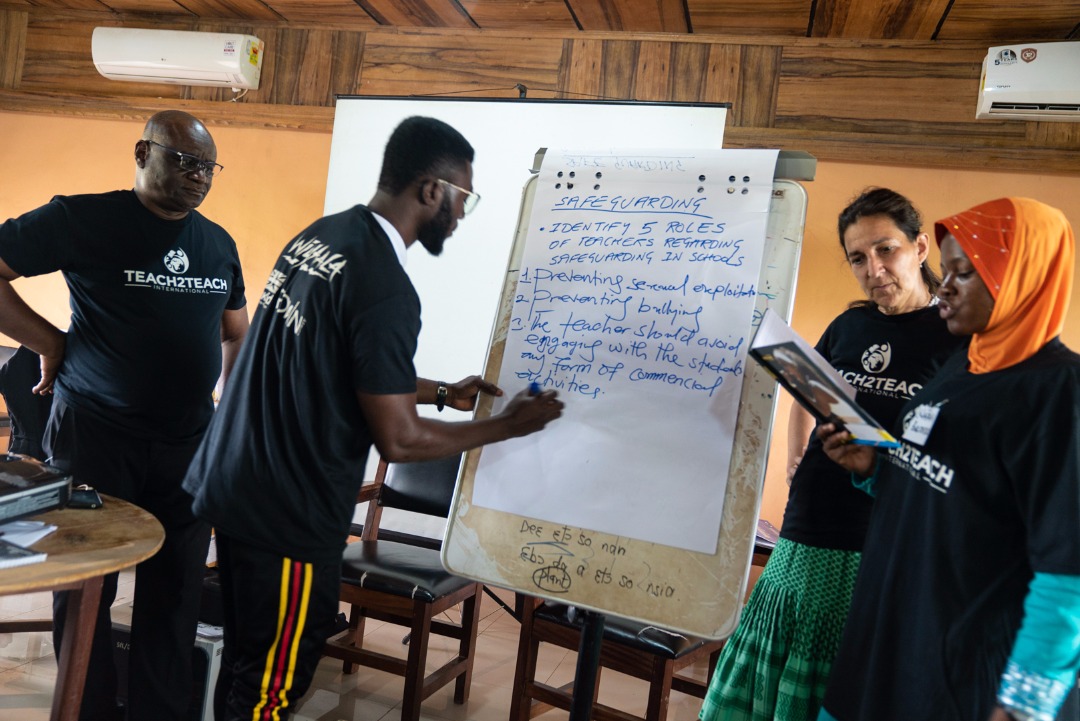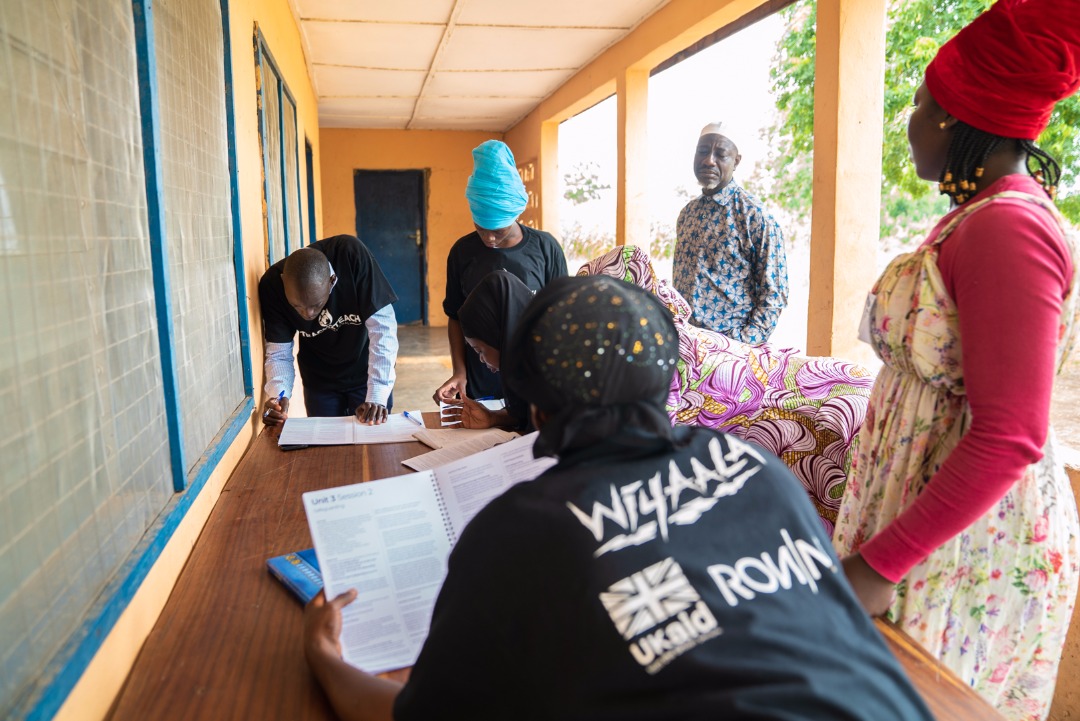 T2T hosted an inauguration event for the CVTP for 100 people at our training centre in Kumbungu.
We were delighted to host a group of highly esteemed guests to our event. It was a pleasure and an honour to welcome Chief Alhassan Andani, CEO of Stanbic Bank, Chair of the Ghana Association of Bankers, and special advisor to the President of Ghana on corporate and social responsibility for SDGs. We were especially honoured when Chief Andani broke with usual protocol and observed a CVT training session in the classroom.
Alongside Chief Andani, we we honoured to welcome Ambassador Patrick Hayford, Special Advisor on Africa and Director for African Affairs in the Office of the UN Secretary General Kofi Annan; Mr Mohammed Haroun, Regional Director of Education for the Northern Region; and Leticia Browne, Director of the Advisory Group on SDGs to the President of Ghana.
We were also honoured to welcome representatives for the District Assembly, University for Development Studies Tamale, Bagabaga College of Education, Ghana Developing Communities Association, School for Life Technical Committee, CAMFED, and the National Youth Authority of Ghana.
Many stirring speeches were made at the event. Chief Andani spoke inspiringly, telling the CVTs that they should reach for their goals and raise up Ghana. A number of the new CVTs spoke extremely movingly about what the programme means to them. The event ended with a feast, and the presentation of cake emblazoned with the T2T logo to the CVTs.
Ghana News Agency cover the Kumbungu launch
Wiyaala profiled in The Financial Times
Small Charities Challenge Fund Grant
Teach2Teach International has been awarded a grant from the Small Charities Challenge Fund (SCCF), the Department for International Development (DFID) fund supporting charities to achieve sustained poverty reduction.
Secretary of State for International Development Penny Mordaunt said:
"Every child should be able to go to school, and ultimately, we cannot end poverty without helping children reach their full potential.

"I'm proud UK aid is supporting Teach2Teach International to allow young children in Ghana to receive a quality education and realise a better future for themselves and their families.

"Small British charities often punch above their weight and UK aid's Small Charities Challenge Fund exists to make sure those organisations with big hearts get the early support they need to help end poverty."
The Ghanaian Association of Bankers hosts Teach2Teach in Accra
The Ghanaian Times: Community Volunteer Teacher Programme to be implemented next year
"Speaking at a roundtable discussion to build a consortium of social impact funders to support the CVTP work of the Teach2Teach International, the Founder of Teach2Teach International, Anita Lowenstein Dent said the programme was to help build the skills of senior high school graduates who are interested in teaching to enter teaching in their communities to address the shortage of teachers in the beneficiary regions."
"The Minister of Education, Dr Matthew Opoku-Prempeh in remarks made on his behalf lauded Teach2Teach for the initiative, saying government was committed to quality education delivery."
http://www.ghanaiantimes.com.gh/community-volunteer-teacher-programme-to-be-implemented-next-year
Ghana News Agency: Corporate bodies should support Teach2Teach project – Stanbic MD
"Mr Alhassan Andani, the Managing Director of Stanbic Bank, has appealed to financial institutions and corporate bodies to support the "Teach2Teach" educational project in the country."
"Mr Andani said education played an immeasurable role in the development of any country, and that it was necessary for stakeholders to support underserved educational institutions especially those in rural areas to bridge the educational gap."
http://www.ghananewsagency.org/education/corporate-bodiesshould-support-teach2teach-project-stanbic-md-143044
GhanaWeb: GAB to support Community Volunteer Teacher Programme – Alhassan Andani
"Speaking to Journalists after a Ghana Association of Bankers and Teach2Teach roundtable discussion, Mr Andani said the GAB will the using their CSR investment fund which is normally used in supporting flood victims and victims of fire disasters to support the underprivileged communities."
"These under-privileged communities have children really being flooded down so we will not wait for occasional rain flood but we will go and deal together as an association with the issue of rural teacher problems and teaching issues within the rural areas."
https://www.ghanaweb.com/GhanaHomePage/NewsArchive/GAB-to-support-community-volunteer-teacher-programme-Alhassan-Andani-707664
GhanaWeb TV: "I'm embarrassed by my region's position in school ranking" - Mohammed Haroun, Director of Education, Northern Region
Teach2Teach International Launch Event: Charity Preview of The Square
An exclusive charity preview of Oscar nominated film The Square took place on Thursday, 22nd February, 2018 at the Electric Cinema. Dominic West, one of the stars of The Square, joined us for the evening.
Directed by Ruben Östlund
Starring Elisabeth Moss, Dominic West & Claes Bang
Christian is the respected curator of a contemporary art museum, a divorced but devoted father of two who drives an electric car and supports good causes. His next show is 'The Square', an installation which invites passersby to altruism, reminding them of their role as responsible fellow human beings. But sometimes, it is difficult to live up to your own ideals: Christian's foolish response to the theft of his phone drags him into shameful situations.
Meanwhile, the museum's PR agency has created an unexpected campaign for 'The Square'. The response is overblown and sends Christian, as well as the museum, into an existential crisis.